All Tranemo PPE Clothing follows the Regulation (EU)2016/425 and the latest European (EN) standards for PPE Clothing covered by the Regulation.

CE marking for protective garments
All Tranemo PPE Clothing is CE marked. The CE marking indicates that a Notified Body has CE type examined these garments according to the PPE Regulation (EU)2016/425. On Tranemo garments you will find this symbol on the inside CE label. The CE label also shows which standards and classes the garments are approved for.

Information symbol
When you find this symbol on the CE label inside the PPE garment it indicates that there is additional information from Tranemo attached to your PPE garment. This information must be read before you start using the garment to ensure that it is worn correctly and giving the optimum protection in the workplace.

Tranemo Skinsafe
The Tranemo Skinsafe™ symbol is shown on each garment that can be combined in the Skinsafe system and recommended by Tranemo.
Read more about Tranemo Skinsafe.
Symbols
Click each symbol to read more about the standard.
A CE label is always found inside a certified garment.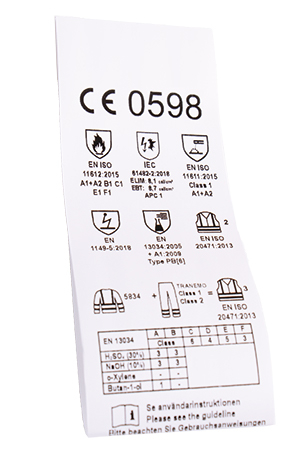 A user guideline is always attatched to a certified garment.