All Tranemo PPE Clothing follows the Regulation (EU)2016/425 and the latest European (EN) standards for PPE Clothing covered by the Regulation.The key reason for wearing FR clothing is to ensure that the garments do not catch fire and/or to limit flame spread, thereby giving time to react in the event of an accident. There are different certifications and symbols for different risks and Tranemo want to make sure you choose the right combination that fits your risk assessment.
There are 3 categories of protection within the PPE Regulation. Category III is the category that requires the highest protection where for example, Electric Arc IEC 61482-2 and EN ISO 11612 D and E are included. Tranemo Category III garments have a production quality monitoring system (Module D according to the Regulation) to ensure that the garments are safe to use. The garment are marked with CE and the number of the Notified Body who has issued the EU type-examination certificate. All standards have different requirements for developing a protective garment, and the fabric and its protective properties are a very important component, but the design of the garment is also checked during certification. A garment with an incorrect design can, for example, cause molten metal to get caught in seams or pockets and expose the wearer to unnecessary risks.  
When a garment is approved by our notified body, Tranemo receives a certificate in which all standards and classes are noted. The certificates are complemented with the Declaration of Conformity and published here on the website. The certificates are saved under each product but also in a compiled list. When the certificate is received, the garment is marked inside with a CE label where you can read which standards and classes the garment is approved for. Here you will also find information about possible combined certifications, fabric quality and washing instructions. All certified garments come with one or more user instructions that the wearer must read before the garment is used, this to ensure that the protective garment is used correctly and that the correct protection is achieved in the workplace. Tranemo also communicates the standard symbols with an emblem on the outside of the garments so that the user can easily see e.g. which Arc-Rating the garment is approved for.
All Tranemo PPE clothing is CE marked and found on the inside of the protective garment and shows which standards and classes it approves for.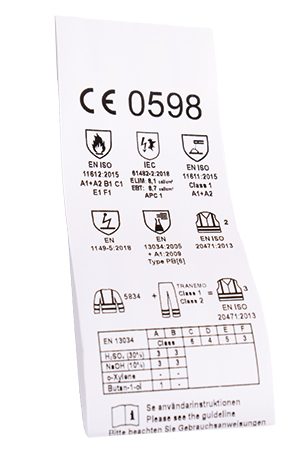 The FR-emblem indicates the Arc-Rating of the garment and which standards it approves for.