PRODUCTS THAT LAST ARE VITAL FOR THE CLIMATE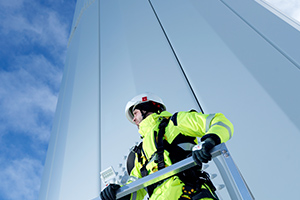 Today, as the effects of climate change are having disastrous consequences, the greenhouse effect and global warming are stark realities. Human activities are disrupting the balance of nature and the climate system. To counter climate change, everyone must help make the transition towards a more sustainable future.
For over 80 years, Tranemo has been developing world-class protective clothing in a sustainable way. Right from the start, sustainability has been a clear priority and one of the strongest drivers for our company. Now Tranemo is taking an even firmer strategic grip on the issue of sustainability by using the latest environmental research to develop personal protective equipment. The results are summarized in Tranemo's environmental strategy, which focuses on sustainable development processes and effective climate measures.
The latest research report from Research Institutes of Sweden (RISE) shows that the most effective way to reduce the environmental impact of clothing is to increase the useful life of garments. If we increase the useful life of a garment by a factor of three, its carbon footprint and water consumption are reduced by 65–66 percent. This also means less waste and less demand on resources.
At Tranemo, we take environmental and climate impact into account at every stage of the product life cycle, right from the product development phase.
"We have always aimed to make protective clothing that has a longer lifetime and this attitude is deeply embedded in our DNA," says Max Larsson, CEO of Tranemo, who together with Sustainability Manager Kristina Alderin, drives the development of tomorrow's sustainable protection.
Creating protective clothing while also improving sustainability is a demanding process. Tranemo's goal is to ensure that users get the most environmentally friendly products that also provide the right level of protection. By identifying the customer's needs right from the start, Tranemo begins with a risk assessment to analyse the environment that protective clothing will be used in, the hazards it may be exposed to and other important variables. This risk assessment provides the foundation that Tranemo then uses to make well-judged decisions on protection level and sustainability factors.
According to Kristina Alderin, Tranemo makes garments that are designed to have the longest possible life, through smart design, material selection and optimization for industrial washing. But it is also important to know how to care for a garment and make sure that it is handled correctly. Tranemo has one of the most experienced and competent teams in the industry who are always ready to help customers make the most of every unique detail. This alone can make a significant contribution to sustainability.
Another important sustainability factor is that protective clothing from Tranemo is easy to repair. If needed, Tranemo can provide a suitable repair kit and instructions to enable a protective garment to be repaired correctly. This means that the customer gets a garment that lasts longer, has lower total cost of ownership and has minimal impact on the environment.
As well as taking proactive steps to maximize the life of its products, Tranemo strives to prevent and reduce environmental impact through other climate measures set out in its environmental strategy. Our environmental efforts include various projects that aim to reduce energy use and environmental impact during transport and to improve production processes so that we use less chemicals and natural resources.