ELECTRIC ARC - THE FORGOTTEN HAZARD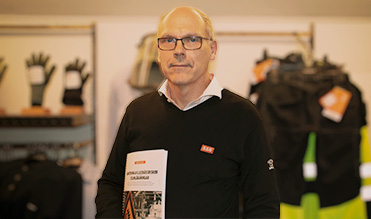 According to a report from the Swedish National Electrical Safety Board, in 2018 there was one reported fatal accident, 456 electrical accidents and 335 incidents in connection with electrical work. In 2019, a further three people died in electrical accidents.
TRANEMO Since 1934, as a leading European supplier of inherent flame retardant and arc protection workwear, TRANEMO has been working towards a goal of zero vision for serious flame-related accidents. Ensuring 100% inherent flame retardancy guarantees users that our garments give lifetime protection. This flame retardancy is a property of each fibre and can neither be washed off nor worn away.
DOES YOUR COMPANY KEEP TRACK OF THE ARC HAZARDS IN YOUR WORK PLACE?
Tomas Kristensson from Swedish Standard Solutions Group AB (SSG) works with issues that are highly relevant and competition-neutral - mainly concerning Swedish industry and the formulation of standards. One such issue is the electric arc standard. Tomas has a background in electrical engineering and has been involved in developing the courses and advice that SSG offers.
HAZARDS OF ELECTRIC ARCS
The hazard of electric arcs arises when people work with electricity on exposed electrical equipment or electrical systems that are unprotected. The hazards of an electric arc include thermal effects, loud noise, spatter, molten metal, optical radiation, burns and other effects.
The electric arc hazard is an important issue for TRANEMO in its efforts to prevent serious work place injuries due to heat and fire, by providing the right protective equipment.
Tomas Kristensson explains that he often calls the electric arc the "forgotten hazard" and points to a photo from 1939 that shows the uninsulated switchgear of that time.
Electric arc flashes were a major hazard in those days. The likelihood of accidents fell somewhat as installers started insulating switchgear but then the tool hazard came into the picture. With uninsulated tools, there is a high risk of triggering an electric arc. Insulated tools began to be introduced in the 1990s, and came into widespread use in 1996. But despite this there are still electric arc incidents.
According to Kristensson there is no doubt that hazards remain today, as some old, unprotected switchgear that is still in use He also mentions overhead power lines and uninsulated batteries. There is also a hazard of electric arcing when electrical maintenance is carried out or when doors and guards are removed and tools are used nearby.
Injuries from electric arcs may be uncommon but they can be extremely serious and better training is often required in this area so that professionals understand the consequences, change their behaviour and minimize the risks of arc injuries.
TRANEMO has developed TRANEMO SKINSAFE – a multi-layer system that is designed to protect the user's skin from heat, flame and arc accidents. Because of the demanding work situations, we focus on the individual's safety by providing an effective combination of protective layers from the skin outwards. Comfort and good fit are also always high priorities.
'As an employer, you are responsible for conducting a risk assessment, analyzing the consequences, evaluating the probability that an accident could occur and ensuring that users have the right protective equipment and tools. Risk management must also be carried out before, during and after electrical work is completed. In cases where you own or use an installation that carries an arc hazard, you are responsible if there is a risk of electric arcing. You should also inform others about the hazards of an arc accident, identify and calculate risks, post signs and inform workers about what work may and may not be carried out' explains Kristensson.
SSG has produced a guide on the issue of electric arcs in electrical installations. The guide is intended as an aid to inform owners and employers about how to manage installations where there is a risk of electric arc accidents. Among other things, the guide gives information about important steps to take to counter the risks of arc accidents.
START-UP AND IDENTIFYING RISKS
CALCULATION 
RISK MANAGEMENT 
PERSONAL PROTECTION EQUIPMENT AND TOOLS
SAFETY INSTRUCTIONS
PLANNING, DESIGN AND PROCUREMENT 
SKILLS AND TRAINING 
FOLLOW-UP, COMPLIANCE AND AUDITING
Once the analysis is complete and any risks have been identified, it is time to turn to TRANEMO. Together we carry out an individual risk analysis. We do not believe in a multi-standard approach ('Multinorm') where a single garment is intended to provide protection against all risks, regardless of occupational category. TRANEMO promises to use its expertise and innovation to deliver quality-assured protective clothing that is designed to protect you from the risks specific to your work.
WHAT ARE THE MOST COMMON SHORTCOMINGS?
In his work, Tomas has come across many old installations and believes that there is both an issue of cost and a lack awareness of the risks.
'Few owners feel that replacing complete switchgear is a priority, because they have never had an arc accident before. This may be precisely when the accident strikes. An inadequate risk analysis or electrical work that is carried out incorrectly can contribute to possible personal injury and potentially halt production for several weeks'.
Tomas advises companies to explore the alternatives available to minimize risks without having to replace switchgear completely. These include analyzing working methods, using protective equipment and ensuring that protective clothing meets the right level of safety. TRANEMO and SSG collaborate continuously in this area. Kristensson believes that very few companies in Swedish industry have conducted an in-depth risk assessment in accordance with SSG 4510.
'There is an enormous amount of work left to do and at present we have really only scratched the surface and got things moving. Originally my ambition was to sort this out in three months, but I've now been working on arc issues for almost seven years and there is still much to do.
Because SSG sets standards and trains people on important electrical safety issues, TRANEMO is able to deliver the right level of protective clothing that meets these requirements and more. Electrical products play a growing role in our society, which also makes safety increasingly important.
We use electricity in our electric bikes, cars and solar panels. Our households are full of batteries and electric gadgets, which can create hazardous situations for individuals and for manufacturers.
In many cases there is a need to set higher levels of protection for garments than the standards require. Every garment that TRANEMO supplies offers the protection and features required to counter all potential risks'. Click on the link below to learn more about how TRANEMO produces protective clothing for arc protection.